Learn more about the history of the project, our plans and our actions.
---
Our Goal
Ensuring that residents of Marinette and Peshtigo have clean and safe drinking water is our highest priority. We have worked proactively, quickly and collaboratively to identify and resolve the issues facing this community. We've hired a world-class team and are using cutting-edge technologies to investigate and remediate.
We will continue to work with local officials and residents as we continue our testing and remedial work. We are investigating multiple aspects of the situation simultaneously, and are keeping local authorities up to date about our findings.
Where we have answers, we are taking appropriate remedial action. Where we don't have answers, we are asking the right questions and working with local governments and regulators to find solutions.
Background
We have been conducting an environmental assessment of our facilities and surrounding areas in The City of Marinette and Town of Peshtigo, Wisconsin. We have identified that certain per- and poly-fluoroalkyl substances (PFAS) are present in groundwater beyond our property, and we're working to fully characterize the current conditions both within our facility and beyond our property boundary.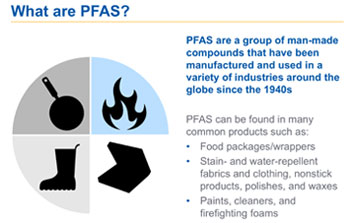 PFAS are used in the manufacture of Aqueous Film-Forming Foams (AFFFs) for special applications because they greatly increase the effectiveness of the foam in fighting hydrocarbon flammable liquid fires, or extremely high heat fires caused by oil or gas, such as locations that use and store quantities of petroleum products. In fact, the U.S. military's stringent specifications have required military foam to be made with PFAS.
Two PFAS on which the United States Environmental Protection Agency (EPA) has focused are PFOA (perfluorooctanoic acid) and PFOS (perfluorooctanesulfonic acid). Both are types of synthetic chemical compounds that have been present in firefighting foam. However, both are also present in many existing consumer products. According to the EPA, PFOA and PFOS have been used to make carpets, clothing, fabrics for furniture, paper packaging for food and other materials (e.g., cookware) that are resistant to water, grease or stains.
AFFF Was Developed to Fight the Worst Fires and Save Lives
Aqueous Film-Forming Foams (AFFFs) are the most effective agents currently available to fight high-hazard flammable liquid fires. These foams contain PFAS that rapidly extinguish and form a seal over the fire. The foam barrier cools the fire and prevents the release of toxic and flammable vapors that could reignite, helping to protect our troops and firefighters conducting rescue and recovery operations. AFFFs are a critical fire suppression tool for ships, military installations, civilian airports, petroleum refineries, manufacturing plants, municipal fire departments and other operations involving the handling of flammable liquids.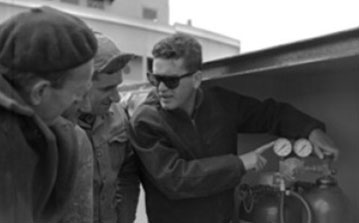 AFFFs ensure the military can safely accomplish its critical missions. The military has used AFFFs for decades to control numerous live fires, including at the Pentagon on 9/11. In fact, it was the U.S. Navy itself that first helped to develop modern AFFFs in the late 1960s, in response to a series of catastrophic fires that resulted in the deaths of scores of service members and the loss of millions of dollars of equipment, including the infamous 1967 fire on-board the USS Forrestal. That fire resulted in the worst loss of Navy life since World War II.
As a result, since 1969, the Department of Defense has set stringent standards that AFFFs must meet in order to qualify for sale to the military. Those military specifications have always required manufacturers to use PFAS in AFFFs. That continues to be the case today: The most recent version of the military specification—issued by the military in 2017—still requires the use of PFAS because they are the only known compounds that can meet the military'''s stringent requirements for fuel-fire suppression. Recognizing the value of AFFFs, the FAA also mandated their use at most civilian airports starting in 2006.
Actions we have taken in Marinette and Peshtigo
Analyzed 2,781 total samples​
Used mobile laboratory on-site for immediate analysis for 70 initial samples​
Operated multiple drill rigs simultaneously ​
Collected 123 surface water samples​
Conducted outreach survey to determine community preferences​
Delivered 3,500+ results letters, updates and invitations to residents​
Participated in 100+ municipal and private residential meetings​
Treated over 18,756,000 gallons of water in Ditch A​
Collected 319 groundwater samples from 53 VAPs since November 2017​
Collected soil samples from 26 VAP intervals​
Sampled 171 private drinking water wells​
Analyzed 2,285 drinking water samples​
Installed and maintained 39 in-home water treatment systems​
Managed over 2,700 calls on the toll-free number​
Applied for 27 approvals, permits and authorizations​
Installed monitoring devices at 11 locations along ditches A and B​
*Last updated on September 4, 2019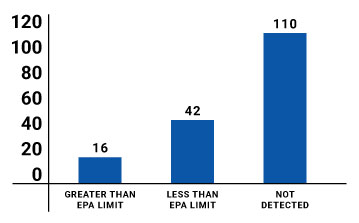 Testing 2013-2017
We think it's important to understand the actual timeline about testing we did at our facilities from 2013 to 2017.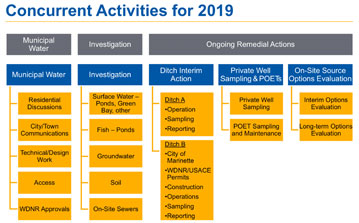 In late 2013, we detected PFAS chemicals at the center of our 380-acre property in Marinette. Our personnel studied the issue and discussed it with outside consultants. Based on the topography, the nature of the compounds and other factors, they believed the issue to be confined to our property. We did not have any reason to believe that these compounds were affecting drinking water in the community.
In 2016, further testing revealed the presence of these compounds near our property boundary, and we notified the Wisconsin Department of Natural Resources (DNR) of both of these results and the testing from 2013. In 2017, in conjunction with the DNR and local officials, we conducted testing in certain drinking water wells in Peshtigo, and found that although most of the wells tested did not contain PFAS compounds, some did.
We have addressed the issue by providing bottled water, POET filtration systems, and, most recently, by developing plans to connect Peshtigo residents to a municipal water system, which has been shown to have no levels of concern of the compounds.
Regulating PFAS
The Federal Government is working to develop a Federal standard for PFOA and PFOS levels in drinking water. Currently, there is only a Federal guideline, called a Health Advisory Level (HAL) that was established for PFOA and PFOS in drinking water by the Obama Administration in 2016.
HALs are non-enforceable advisory levels that are based on high-dose animal studies and on various conservative risk factors that use a wide margin of safety. The Obama Administration established a HAL of 70 parts per trillion (ppt) for PFAS in water.
What a HAL of 70 ppt means is that during their lifetime, a person could drink countless glasses of water containing PFOA and PFOS upto 70 ppt without risking illness. The EPA has also not found that these compounds cause any human illness at concentrations above 70 ppt.
Best Practices and Future Technologies
The firefighting foam industry has developed a set of user best practices regarding storage, use and disposal of firefighting foams. The industry supports legislation that codifies many of these best practices into law, such as a prohibition on the use of AFFFs for anything other than live-fire emergencies and the use of fluorine-free foams for training exercises. The industry also actively encourages customers to follow these best practices by, among other things, minimizing AFFF releases from foam systems as a result of accidental discharges and providing for containment, treatment and proper disposal of AFFF solutions in accordance with all applicable laws and regulations.
Industry, research institutions and the Department of Defense are all actively researching next-generation non-fluorinated foam technologies that can meet the military's stringent requirements, but, as yet, no one has developed such a foam. Until that time, continued access to AFFFs for live-fire incidents is critical to the military and first responders.
Partners and Government Agencies
We continue to work cooperatively with the Wisconsin Department of Natural Resources (DNR), the Department of Health Services and officials in both the City of Marinette and the Town of Peshtigo on plans going forward.
Our investigative and remediation work is being led by a team of engineers and scientists at Arcadis, in close partnership with our internal team. Arcadis is an outside environmental consulting firm with a long history working on clean drinking water projects across the globe. They are bringing their deep knowledge from managing similar projects elsewhere to the people of Marinette and Peshtigo and are ensuring that we are taking the necessary steps to secure a long-term effective and reliable solution.